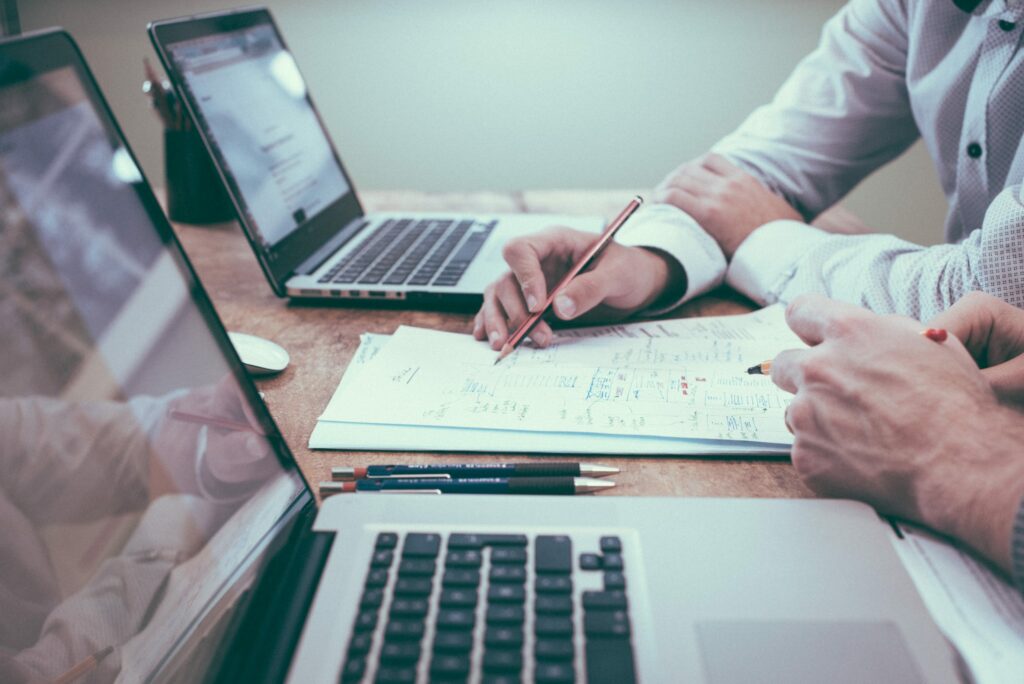 Ask a hundred advisors to define the term "hybrid advice" and it's more than likely you'll get a hundred different answers.
At Envizage, we believe hybrid advice should be customer-centric. That means combining good old fashioned financial advice with cutting edge financial technology. By pairing human insight with cutting edge innovation, advisors can deliver better outcomes for customers. 
A killer combination
While humans provide reassurance and validation, technologies create engaging, efficient journeys that are repeatable, auditable, and scalable. Done right, hybrid advice enables advisors to utilise machines to give customers an array of options and solutions, enabling them to deeply understand and navigate their choices.
A critical piece of this puzzle is to remember that no two customer journeys are the same. Everyone is different and advisors must consider the psychology of their clients in order to help them effectively. This angle is often overlooked and leads to hybrid advice coming up short. 
The difference between "Advice" and advice"
All too often, advisor-led businesses conflate "Advice" and "advice". "Advice" is an FCA-defined term referring to the compliance requirements that must be met before a UK customer can be sold products. When we talk about "advice", we are being holistic – proper advice helps a customer to get closer to their desired future outcomes, regardless of whether it involves financial products.
Hybrid advice combines the best of humans and machines to solve for both "Advice" and "advice". Without Advice, you cannot make FCA-compliant sales, but if real advice is overlooked, advisors will fail to understand a customer's psychological and practical needs and fears, and solutions will be flawed.
Sadly, this is the status quo for robo-advisors and other automated investment offerings. Most digital and hybrid advice propositions (developed at huge expense by UK financial services firms and challengers) have failed to achieve their commercial objectives, precisely because they adhere to a vision of advice that is two-dimensional and limiting for clients, both personally and financially. They mistakenly seek to replicate traditional Advice models, ignoring advice altogether. 
A unique offering
Robo-advisory products are essentially sales systems, doing all they can to persuade customers to buy products, regardless of whether they actually suit their personal needs. In contrast to this Advice model, the public demands high-quality and easily accessible advice systems that empower them to make compliant purchases, as opposed to being ruthlessly targeted and sold to. Done right, this approach turns products that previously needed to be sold into products that customers can understand and buy on their own, with a little human assistance.
It's this awareness that makes Envizage's offering unique in the market. We are proud to be the only provider aligning all the advice and guidance recommendations with a customers' desired future outcomes. Our technology clearly and visually demonstrates how actions, recommendations, or advice actions, impact each desired future outcome, based on the customer's circumstances and finances. 
Envizage allows our customers to deploy flexible, digital journeys at speed, delivering the killer combination of Advice and advice in one beautifully wrapped package. We also enable productivity gains for adviser-led models, and we enable the rapid creation of customer-facing interfaces to power hybrid models. These provide solutions for all customers, ranging from those who know exactly what they want to those who don't have the foggiest. 
Empowering advisors to help their customers 
As a result of our experience and learnings both here in the UK and overseas, we've built Envizage so it can empower advisors to be more efficient, helping them to serve more customers, more ably. Depending on the needs and experience of the customer, our technology can flexibly power narrow and restricted advice journeys or broader and more holistic ones. The technology is designed to fit the customer's journey. 
For too long, the financial services industry has trained advisors to open conversations by focusing on products. But those of us who have been working in this business for a while know before we think about taking the customer into this domain, we must listen to their needs and advise them on how decisions made now can affect their future in myriad ways. 
To deliver hybrid advice at scale, integrating Advice and advice, and to effectively combine the best elements of humans and machines, it's critical to avoid the mistakes that many UK providers have made in this domain. The first part of solving that puzzle is to make sure that we're all on the same page when it comes to defining hybrid advice, and then go and build solutions that work for the customer.
Want to learn more about our unique approach to hybrid advice? Get in touch: